Hanukkah Orders
For pickup on the eve of Hanukkah (Thurs, 12/7):
Deadline to pre-order by phone is Tues, 12/5 at noon
Deadline to pre-order online is Mon, 12/4 at noon
*If you're celebrating the rest of the week, place phone orders 2 days in advance by noon and online orders 3 days in advance by noon.*
pre-order online now
Holiday Hours
The Bakeshop will be open during normal business hours (7 am - 7 pm) every day unless otherwise noted below.


Christmas Eve (12/24): 7 am - 5 pm
Christmas Day (12/25): CLOSED
New Year's Eve (12/31): 7 am - 5 pm
New Year's Day (1/1): 8 am - 5 pm
Holiday Favorites are back in December!
Stollen
Walnut Beigli
Ele's Berry Bright Cranberry Tart
Bûche de Noël (contains alcohol)
White Chocolate Bûche de Noël (alcohol-free)
Merry Mint Chocolate Cake
Olive Oil Cake
Need a great gift?
Our new cookbook, Zingerman's Bakehouse Celebrate Every Day, contains recipes to celebrate life events big and small (from birthdays to tailgates). It makes a great gift during the holiday season!

Bundle with our other book and/or booklets for a special price. Call for more info (734-761-2095).
order your copy and pick-up at the bakeshop
Give a gift card this holiday season
Buy an electronic gift card and have it emailed or texted to the recipient faster than you can say "Happy Holidays!"

If you would like to purchase a physical gift card and pick it up in the Bakeshop, please visit our Toast page (by clicking the "order for pickup" button) or call us at 734-761-2095.
purchase an e-gift card now
BAKE! with us!
Join us for a hands-on baking class at BAKE!, our onsite teaching baking for home bakers and cooks.

From bread baking to pastry making to cooking (both in in-person and virtual formats), there's a class for everyone!
Sign up for the BAKE! enews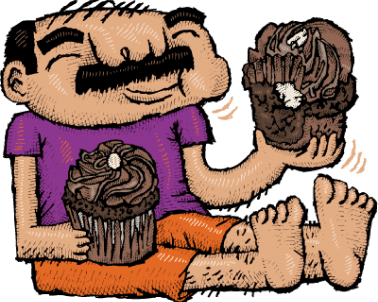 Order your favorite treats online for pickup at the Bakehouse. 
Planning ahead? Place a future order for any orders 3+ days from today.
This bread is a magical combination of our Better Than San Francisco Sourdough, toasty pecans, and dried cranberries from Wisconsin. It's a perennial favorite for the holidays and bread fans wait for it all year long.
It's not a party

without cake!
We think cakes take a celebration from a good time to a great time. Whether your style is simple, extravagant, or something in between, we've got you covered with a selection of American layer cakes and Hungarian coffeehouse tortes that can be customized to your liking.
Customize our fresh-made seasonal and specialty cakes with colorful fondant flowers, customized inscriptions, and more! Just give us a call to check availability.
A fun and festive cake to make your holidays a little merrier! Layers of chocolate cake, filled with chocolate mint Swiss buttercream, covered in vanilla Swiss buttercream with crushed peppermint candy throughout.
Join us for a hands-on baking class at BAKE!, our onsite teaching bakery for home bakers and cooks. We offer dozens of different classes from bread baking, pastry, cake, savory baking to cooking classes, both in our teaching kitchens and online with virtual classes.
Zingerman's Bakehouse is an artisanal bakery with a baking school in Ann Arbor, Michigan. We started 30 years ago as a simple bread bakery with a single customer, Zingerman's Delicatessen. Today we make bread, pastries, cakes, lunch items (and so much more!) that we proudly serve to guests in our bustling shop, our Zingerman's partner businesses, the southeastern Michigan community and beyond.